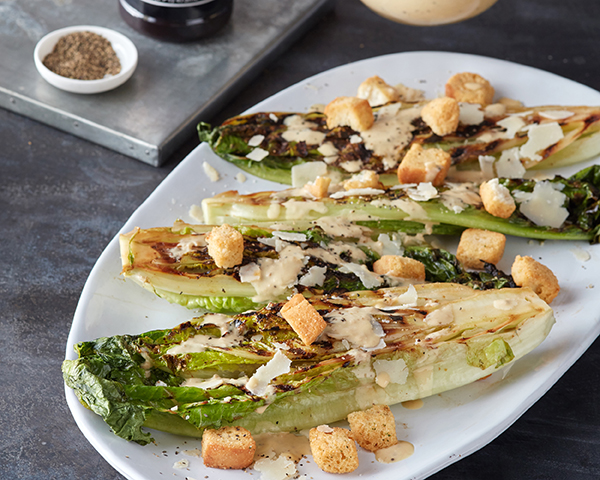 Ingredients
1 clove garlic, peeled and finely chopped
2 anchovy filets packed in oil, finely chopped
2 tbsp lemon juice (from 1 lemon)
1/3 cup extra-virgin olive oil
1/2 cup finely grated parmesan cheese
1/2 cup shaved parmesan cheese
Directions
Whisk together the garlic, anchovy, mayonnaise, mustard, lemon juice and Dale's original seasoning.
While whisking, slowly pour in the olive oil.
Whisk in the parmesan cheese and black pepper.
Refrigerate until ready to use (can be made up to 3 days ahead).
Meanwhile, heat a charcoal or gas grill to medium heat (about 350-400 degrees).
Trim 1/8"inch from the root-end of the romaine heats, leaving the root intact.
Halve the romaine hearts lengthwise, starting at the root and pulling the knife through to the leaves.
Place the romaine hearts cut side up on a sheet tray, evenly brush with Dale's Original Seasoning, then olive oil.
Place cut side down on the grill for 3 minutes, then turn and cook for another 2 minutes until tender but not falling apart.
Place on a serving platter; let cool 2 minutes.
Drizzle with dressing (to taste), and top with parmesan shavings and croutons.
Serve immediately.