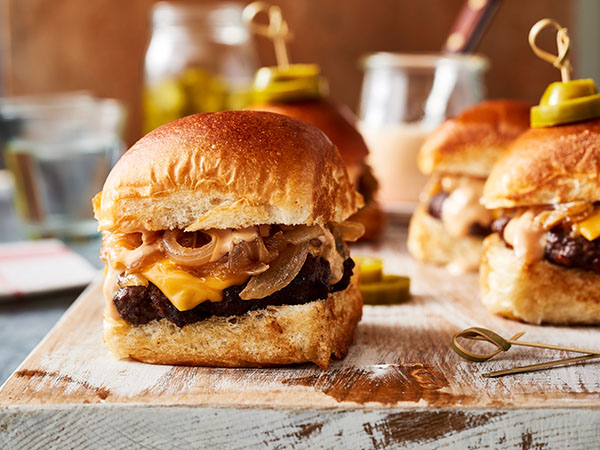 Directions
Heat a medium skillet over medium heat.
Add the butter, then the onions.
Cook until the onions start to soften and look translucent, about 5 minutes.
Reduce heat to low and let cook, stirring occasionally, about 20 minutes.
Add 1 teaspoon of Dale's seasoning and continue to cook another 5 minutes.
Remove from heat and set aside.
Preheat the broiler to high, with the oven rack positioned 6" from the heating element.
In a medium bowl, gently combine the ground beef, 3 tablespoons Dale's seasoning and black pepper.
Line a large baking sheet pan with foil.
Form the meat into 16 equal sized patties, (about 2oz each or ¼ cup each).
Form the patties to be slightly wider than the bun, with a small indent in the center.
Arrange in rows in the center of the sheet tray.
Place under the broiler for 3 minutes.
Turn to the other side, and broil 2 more minutes. (Patties should be slightly undercooked at this point, as they will return to the oven later).
Transfer sliders to a plate and replace foil on the sheet tray with clean foil.
Reduce oven temp to 375°F.
Slice the slider rolls in half cross-wise.
Arrange the bottom halves tightly together on the baking sheet.
Top each bottom half with 2 small slices of cheese, a slider, another 2 slices of cheese, and small spoonful of onions.
Top with the top buns and push the sliders together so that they touch in a square.
Cover tray tightly with another piece of foil and return to the oven for 10-12 minutes, until cheese is melty.
Meanwhile, in a small bowl, whisk together the mayonnaise, ketchup, mustard, pickles & their juice.
Place sliders on cutting board to serve with the sauce on the side.