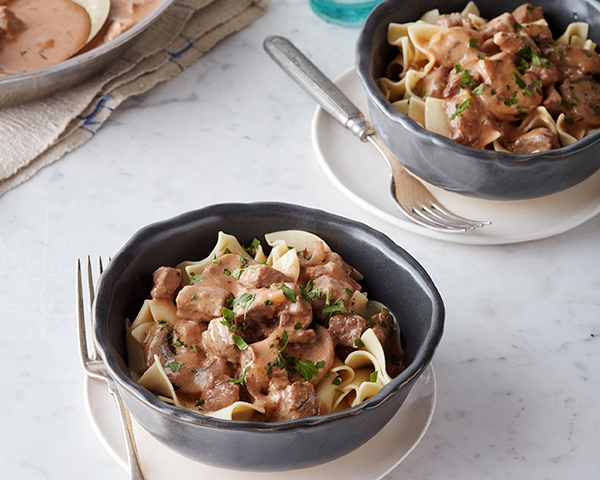 Ingredients
1 1/2 lb beef stew meat, cut into 1" pieces
6 tbsp all-purpose flour, divided
1 medium yellow onion, peeled and diced
2 tbsp Dale's Original Seasoning
Directions
In a zip top gallon sized plastic bag, place the meat, 3 tablespoons flour, paprika and black pepper.
Close and toss to coat evenly.
Heat a large pot or dutch oven over medium heat.
Add 3 tablespoons of oil, then the beef in a single layer.
Sprinkle any excess flour remaining in the bag over top.
Cook until golden on both sides, turning once, about 8 minutes.
Remove the pot from the heat and transfer beef to a dinner plate.
Return the pot to medium heat.
Add the remaining 1 tablespoon olive oil, then the onion.
Cook, stirring frequently and scraping browned bits from the bottom of the pan, until onion begins to soften, about 3 minutes.
Add the mushrooms and cook another minutes.
Add the Dale's Original seasoning and tomato paste and stir well to coat the vegetables.
Cook for 1more minute.
Meanwhile, in a small bowl, whisk together the stock and the remaining 3 tablespoons of flour.
Add the stock mixture to the pot, stirring and scraping to loosen any browned bits from the bottom of the pot.
Bring to a simmer over medium-high heat, then cover and reduce heat to low and cook for 45-50 min, stirring occasionally, until meat is tender.
Remove from heat and stir in the sour cream and parsley.
Serve over cooked, buttered egg noodles.