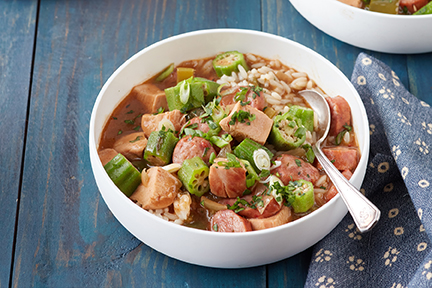 Ingredients
1 1/2 lb boneless, skinless chicken thighs
8 oz. smoked sausage, cut into ½" thick slices
1/4 cup + 2 tablespoons Dale's Reduced Sodium Blend
2/3 cup + 1 tablespoons vegetable oil
1 medium yellow onion, diced (about 2 cups)
1 green bell pepper, seeded and diced (about
6 cups low sodium chicken stock
1 lb smoked sausage, sliced into ½" rounds
2 cups okra, cut into 1/2" thick rounds
1/4 cups sliced green onions (white & green parts)
8-10 cups cooked white rice, hot
Directions
Place chicken thighs in a large plastic container or gallon sized zip top plastic bag.
Add ¼ cup Dale's Low-Sodium Seasoning.
Marinate 1 hour.
Discard seasoning and place chicken on a paper towel lined plate. Pat to dry.
Heat a large dutch oven or heavy-bottomed pot over medium heat.
Add 1 tablespoons oil.
Add the sausage in a single layer and cook, stirring occasionally, until the fat renders and the
sausage starts to brown, about 5 minutes.
Reserve sausage on a plate and set aside.
Return the dutch oven to medium heat.
Place the chicken in a single layer and cook, 8 minutes total, turning pieces once when they no longer stick to the bottom of the pan.
Remove to a plate and let rest until cool enough to handle.
Dice into 1" pieces.
Return the dutch oven to medium-low heat.
Add the 2/3 cup of vegetable oil, then flour while stirring constantly.
Reduce heat to medium-low and cook, stirring frequently, until the roux is medium- brown/caramel color, about 18-20 minutes.
Add onions, peppers, and celery to the roux.
Cook until slightly softened, about 6 minutes, stirring frequently.