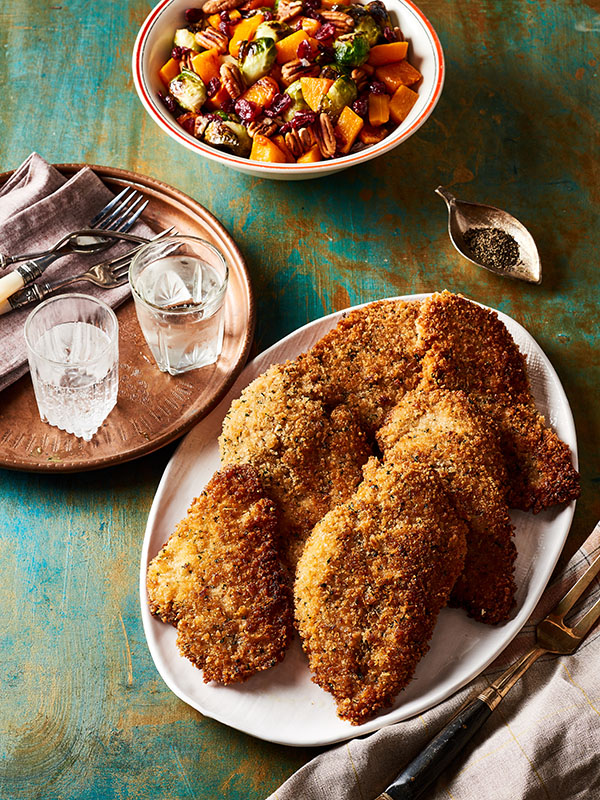 Ingredients
4 cups Diced butternut squash (3/4" and about 1 1/4 lb)
1/4 cup Dried cherries or cranberries
5 tbsp Reduced sodium Dale's seasoning
Directions
Preheat oven to 425°F.
Place the butternut squash and Brussels sprouts on a sheet tray.
Toss with 2 tablespoons olive oil, 1 teaspoon salt and ¼ teaspoon black pepper.
Roast 25 minutes, until softened and golden.
Let cool for 10 minutes on the sheet tray, then transfer to a large mixing bowl.
Toss with lemon juice and top with pecans and cherries. Set aside.
Place the chicken flat on a cutting board.
Slice crosswise, through the side of each chicken breast, to divide into 2 thin filets.
Place the chicken in a gallon sized, plastic zip top bag.
Add the reduced sodium Dale's seasoning, seal and let marinate in the refrigerator for 15 minutes.
Remove and pat the chicken very dry with paper towels.
In three large, shallow bowls (or pie plates), separately place the flour, egg, and panko.
Whisk 1 teaspoon reduced sodium Dale's into the egg.
Dredge the chicken cutlets first in the flour, shaking to remove excess. Then the egg, then the panko.
Place on a sheet tray and set aside.
Heat a large skillet over medium heat.
Add 4 tablespoons olive oil, then the chicken cutlets in a single layer.
Cook until the chicken is crispy and golden, about 4-5 minutes per side.
Remove and drain on a paper towel lined plate.
Serve a chicken cutlet with some of the salad on the side.