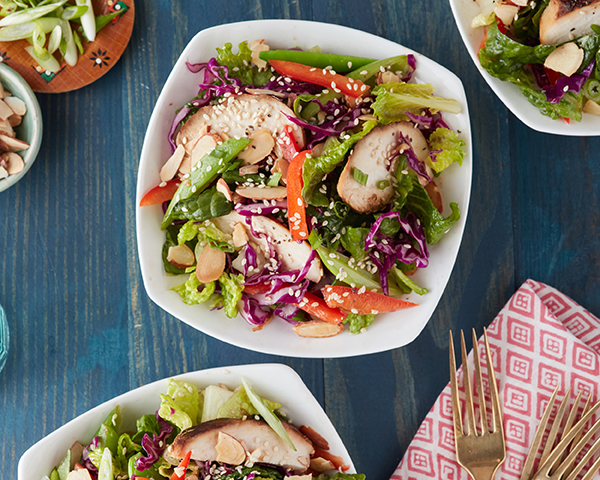 Ingredients
2 boneless, skinless chicken breasts (about 1 1/4 lbs)
4 1/2 tbsp Dale's Original Seasoning, divided
1 tbsp lime juice (from 1 lime)
1 garlic clove, peeled and finely chopped
2 tsp finely chopped fresh ginger
1 tsp Asian hot sauce such as sriracha
1/4 cup + 2 Tbsp peanut oil, divided
1 red pepper, seeds and stem removed, thinly sliced
3 cups thinly sliced red cabbage
4 cups romaine hearts, cut into 1/2" strips
Directions
Place the chicken breasts in a gallon-sized zip-top plastic bag (or medium bowl).
Add 3 tablespoons Dale's Original Seasoning and refrigerate for 30 minutes.
Meanwhile, heat the oven to 350 degrees.
Spread the sliced almonds in a single layer on a small baking sheet.
Bake 10 minutes or until golden.
Remove the almonds and reserve.
Spread the sesame seeds on the tray and bake 8 minutes or until golden.
Reserve.
In a medium bowl combine the rice vinegar, lime juice, garlic, ginger, hot sauce, black pepper and remaining 1 ½ tablespoons Dale's Seasoning.
While whisking constantly, slowly pour in the peanut oil, then sesame oil.
Bring a medium saucepan of salted water to a boil.
Have a bowl of ice water ready.
Boil the snow peas until bright green, but still crisp, about 1 minute.
Transfer immediately to the ice water.
Once cooled, drain and dry on a paper towel lined plate.
Slice in half, crosswise, on the bias.
Remove the chicken from the marinade and pat dry.
Heat a medium skillet over medium heat.
Add the vegetable oil, then the chicken breasts.
Cook for 4 minutes on each side or until golden brown.
Transfer skillet to the oven and cook an additional 15 minutes or until internal temperature of the chicken is 160 degrees.
Set aside until cool enough to handle.
Slice cross-wise into 1/2" strips.
In a large bowl, combine the snow peas, red pepper, cabbage, romaine hearts and scallions.
Toss with the dressing.
Place chicken over top, then sprinkle with toasted almonds and sesame seeds.
Serve immediately.