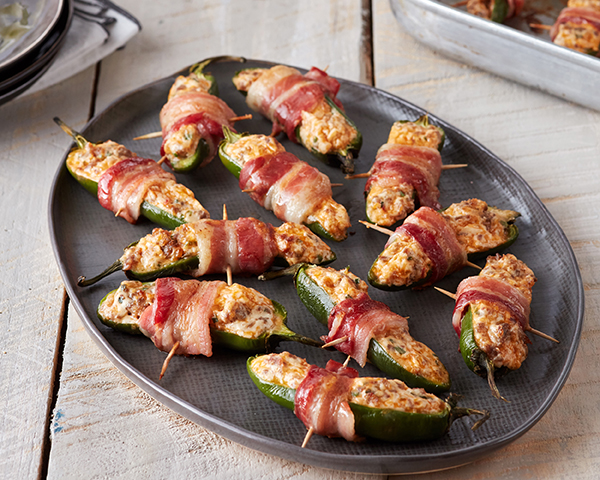 Directions
Heat a skillet over medium high heat.
Add the sausage and cook, breaking into small pieces, until browned and no longer pink throughout, about 6-7 minutes.
Remove from pan and drain on paper towel lined plate.
Slice each jalapeno in half, lengthwise.
Use the tip of a small spoon to scrape out the seeds and white membrane.
In a medium bowl, stir together the cream cheese, 1 tablespoon Dale's Original seasoning, chives, cheddar, and cooked sausage.
Fill pepper halves evenly with the cream cheese mixture.
Heat oven to 375 degrees.
Slice each bacon piece in half crosswise.
Wrap one piece of bacon around each stuffed jalapeno half.
Secure the bacon with a toothpick.
Place cut side up on a foil-lined sheet tray.
Brush the bacon evenly with remaining 2 tablespoons of Dale's Original Seasoning.
Bake until the bacon is crispy and the peppers are tender, 20-22 minutes.