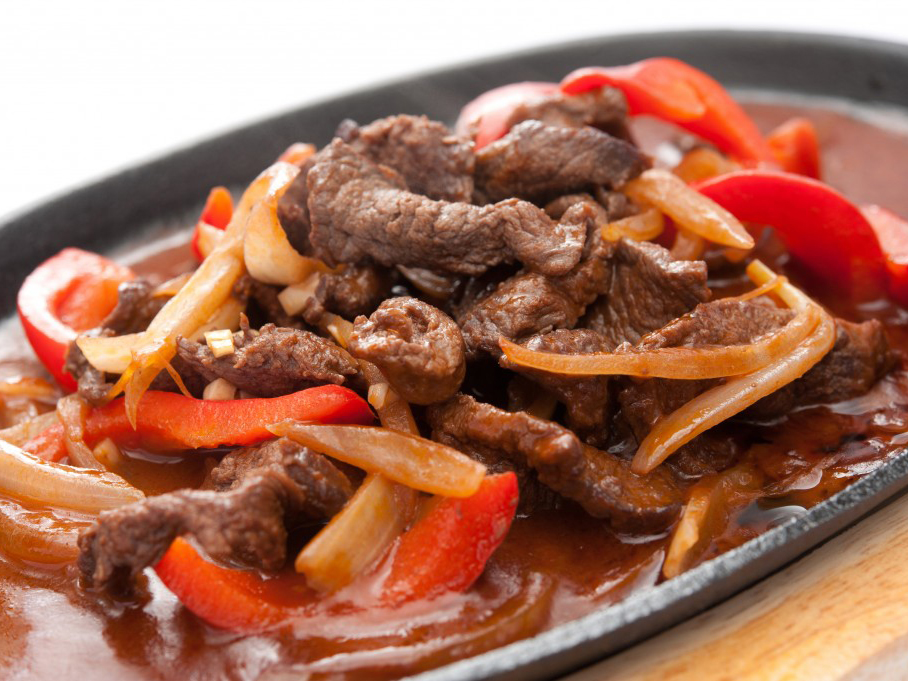 Ingredients
2 Large sweet onions, thinly sliced
2 Large red or green bell peppers
2 Celery stalks, thinly sliced
2 tbsp Marsala or other red wine
1/2 lb Fresh or 2 4 oz. cans mushrooms
1/2 tsp Beef soup base (optional)
Directions
Using a sharp slicing knife, slice the steaks as thinly as possible into strips, cutting across to make thin strips about 3/4″ in width.
Trim away and discard fat and sinew.
Tough cuts of meat may also be used for this recipe; just simmer the sliced beef a bit longer before adding in the remaining ingredients.
Alternatively, purchase pre-sliced stir-fry beef or have your butcher cut it for you (but this convenience will come at a premium – be your own butcher for the most economy!)
Sauté steak strips with thinly sliced onions in a few tablespoons olive oil and a tablespoon of butter, stirring often.
Add cored and diced peppers and sliced celery, along with a small amount of hot pepper.
Add more olive oil if needed.
Add garlic after meat has browned.
Add a few tablespoons of wine to deglaze the bottom of the pan.
Sprinkle flour over meat and stir.
As sauce thickens, add a few tablespoons of water or beef broth to thin out to desired consistency.
Stir in Dale's Seasoning.
Cover and simmer over low heat until meat is tender (about 20-30 minutes).
Stir in mushrooms and cook 1-2 more minutes (only until mushrooms are heated through).
Serve over steamed rice, buttered noodles or chow mein noodles.