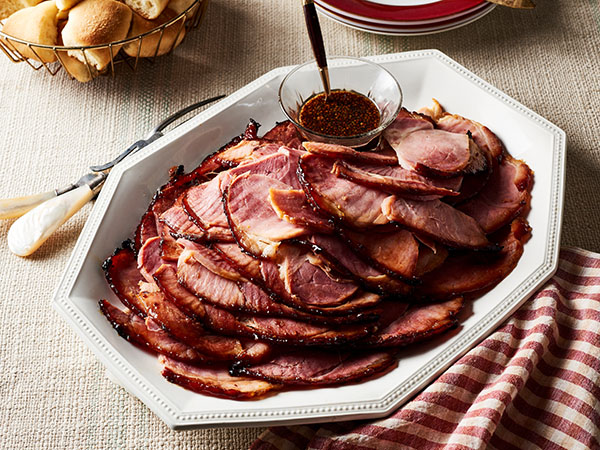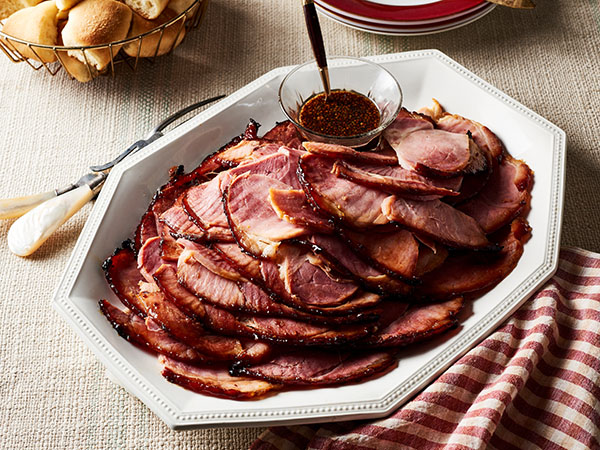 Glazed Spiral-Cut Ham
June 6, 2017
Tip:
-We love this ham served alongside roasted sweet potatoes wedges. Cut sweet potatoes in 1" thick wedges. Toss with a small amount of olive oil, salt and pepper. Roast at 425 degrees for 25-30 minutes, until tender.
Prep: 35 mins
Cook: 2 hrs 30 mins
Directions
Preheat oven to 350°F.
Place ham into a large roasting pan.
Cover with foil and place in the oven to heat through the center, about 1 ½ - 2 hours.
Meanwhile, in a small saucepan, combine the pineapple juice, Dale's seasoning, apple cider vinegar, brown sugar and red chile flakes.
Cook over medium-high heat until simmering, whisking frequently to dissolve the sugar.
Reduce heat to medium and let cook until reduced by 2/3rds (to yield 1 ¼ cup), about 20 minutes.
Remove from heat, whisk in the mustard, and set aside.
Remove the ham from the oven.
Measure ¼ cup of the juices from the bottom of the pan and set aside.
Increase oven temperature to 400°F.
Brush the ham all over with the sauce.
Return it to the oven, uncovered, for 10 minutes.
Remove, brush again, and return for another 10 minutes.
Remove once more, brush again, and return to the oven for a final 10 minutes.
Remove ham from the oven and let rest for 15 minutes in the pan, then transfer to a serving platter.
Whisk the reserved ¼ cup of pan juices into the remaining glaze and serve alongside the ham.