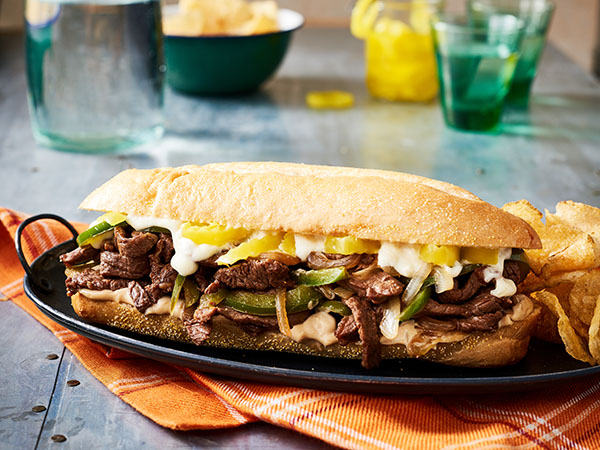 Ingredients
16 oz. Boneless rib-eye steak, about 3/4" thick
3 1/2 tsp Dale's Seasoning, divided
1 Green bell pepper, core and seeds removed, thinly sliced
1 Small yellow onion, peeled and thinly sliced
6 Slices (about 3 oz) of Swiss cheese torn into 1" pieces
1/4 cup Freshly grated parmesan cheese
4 6" hoagie or po' boy rolls, split on the long side, toasted
Directions
1Place the steak in the freezer for 30 minutes to firm up.
2Cut off any large, visible pieces of fat, then slice cross-wise (against the grain), as thinly as possible.
3Heat a large skillet over medium heat.
4Add 1 tablespoon vegetable oil, then the peppers, onions and 1 teaspoon Dale's seasoning.
5Cook until softened and just beginning to caramelize, about 6 minutes.
6Push the vegetables to the side of the skillet, then add the remaining vegetable oil to the pan, then add the steak and 1 tablespoon Dale's Seasoning.
7Cook about 5 minutes, stirring occasionally, just until the outsides are brown and some of the meat is still slightly pink.
8Stir the vegetables and remove from heat.
9Meanwhile, place a small saucepan over medium heat.
10Reduce the cream by ½, 9-10 minutes.
11Reduce heat to low, add the cheeses and whisk well to combine.
12Remove from heat, cover and hold warm.
13In a small bowl, whisk the mayonnaise with the remaining ½ teaspoon Dale's seasoning.
14Divide the mayonnaise and the meat mixture evenly between the rolls.
15Top with cheese sauce and optional banana peppers.
16Serve immediately.