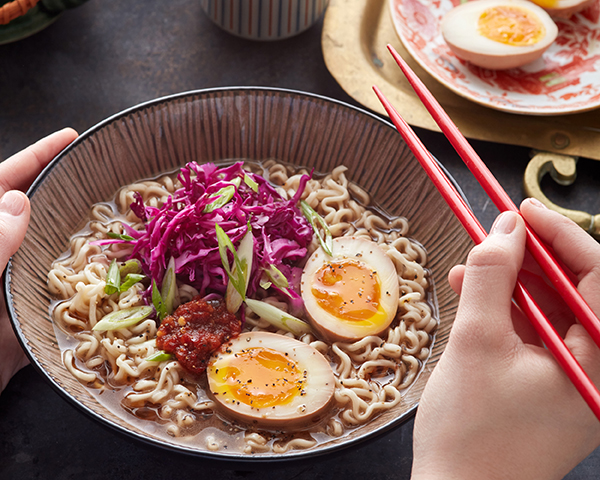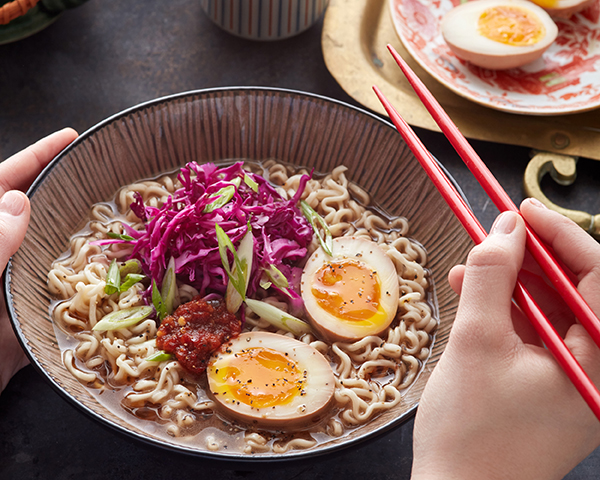 Ramen Noodle Soup with Dale's Soaked Egg
February 16, 2018
Ramen noodle soup with Dale's seasoned soaked egg
Ingredients
1 cup Dale's Reduced Sodium Blend, divided
1 tbsp + 1 teaspoon sesame oil
2 tbsp peeled, finely choped fresh ginger
6 cups low sodium chicken or vegetable broth
1/4 cup Dale's Reduced Sodium Blend
4 green onions, white and green parts, thinly sliced
4 3 oz. packages ramen noodles, seasoning packets discarded
Directions
Place 6 tablespoons of water in a medium bowl.
Microwave for 30 seconds on high, then whisk in 1 tablespoon of sugar until completely dissolved.
Stir in the vinegar and ¾ cup Dale's Reduced Sodium Blend.
Bring a small pot of water to a boil.
Carefully lower the eggs into the boiling water and cook for 7 minutes.
Meanwhile, prepare a large bowl with ice water.
When finished cooking, transfer the eggs to the ice bath.
Peel the cooled eggs and transfer them to the Dale's mixture.
Submerge completely by placing a small plate over top.
Marinate in the refrigerator for 4 hours.
Remove the eggs from the Dale's mixture.
Set aside. (These can be held in the refrigerator, out of the liquid, for 1 day.)
In a small bowl, toss the cabbage with the rice vinegar, 1 teaspoon of sugar, salt and 1 teaspoon of sesame oil.
Massage with hands to dress the cabbage.
Set aside for 15 minutes.
Meanwhile, heat a large pot over medium heat.
Add 1 tablespoon sesame oil, then the garlic and ginger; cook for 2 minutes, stirring frequently.
Add the broth and Dale's Reduced Sodium Blend.
Stir well to combine.
Bring to a simmer over medium-high heat.
Once the broth is simmering, add the ramen noodles.
Reduce heat to medium and cook for 2 minutes.
Add the eggs to reheat, simmer 1 additional minute.
Divide noodles and eggs into 6 bowls.
Top evenly with marinated cabbage, scallions and chili paste, if desired. (Eggs can be cut in half lengthwise before serving)