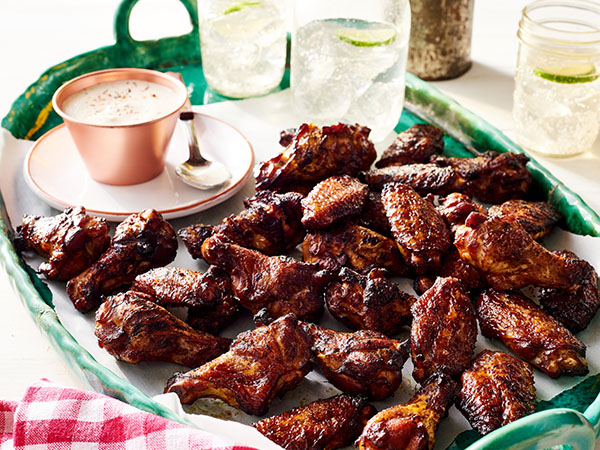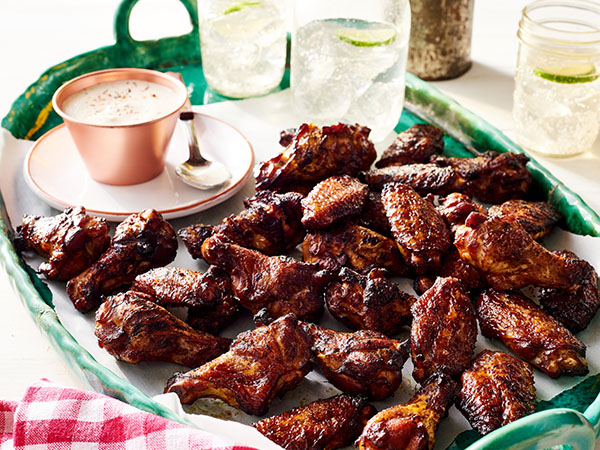 Smoked Chicken Wings with Horseradish White BBQ Sauce
June 6, 2017
Prep: 20 mins
Cook: 50 mins
Directions
Soak 1 cup Applewood chips in 3 cups of water.
Place the chicken wings in a gallon size, plastic bag.
In a small bowl, whisk together the Dale's seasoning, garlic, turmeric, smoked paprika, and ground cayenne.
Pour the mixture over the chicken wings.
Press as much air as possible out of the bag and seal.
Refrigerate 30 minutes, turning over after 15 minutes.
In a small bowl, whisk together the mayonnaise, apple cider vin, lemon juice, horseradish, black pepper and cayenne.
Cover and refrigerate while smoking the wings
Pre-heat a charcoal grill to 350°F.
Push the hot coals to cover one half of the grill.
Remove the chicken wings from the marinade and pat dry with a paper towel.
Place the wings on the side of the grill, directly over the charcoal.
Let cook 5 minutes, without moving.
Using heat resistant tongs, turn the wings and place on the other half of the grill.
Remove the Applewood chips from the water and scatter evenly over the charcoal.
Cover the grill and let smoke for 50 minutes. (Do not remove lid). (Heat should hover between 300 – 325 degrees during this time).
Cook until wings reach temperature of 165°F.
Serve alongside white bbq sauce.