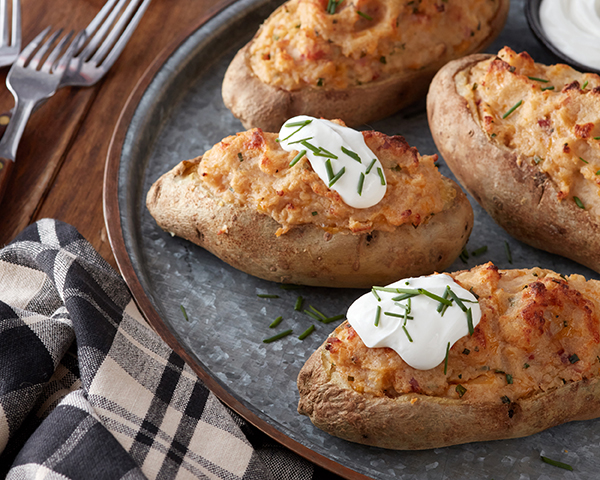 Directions
Preheat oven to 425 degrees.
Prick each potato with a fork, 3-4 times.
Place on a baking sheet and roast for 1 hour 15 minutes, or until tender when pressed.
Let rest until cool enough to handle.
Meanwhile, fit a cooling rack in to a sheet tray.
Lay the bacon on the cooling rack in a single layer.
Brush slices evenly with 1 tablespoon Dale's Original Seasoning.
Roast in the oven for 20 minutes, or until the fat renders and the bacon is crispy.
Remove to a paper towel lined plate to cool.
Finely chop and set aside.
Reduce oven temperature to 375 degrees.
Cut the top piece of skin from each of the potatoes. (The cut should be almost the full length and width of the potato, but should only be about ¼"
deep).
With a tablespoon, scrape out the insides of the potatoes into a large mixing bowl, being careful not to tear the shell. (Leave a small rim of potato intact for support).
Return the potato shells to the baking sheet.
To the mixing bowl, add the butter, 2 tablespoons Dale's Original Seasoning, ½ cup sour cream, and whole milk.
Mash well with a large fork until smooth.
Stir in the cheddar cheese, bacon pieces and 2 tablespoons chives.
Divide the filling evenly among the potato shells.
Return to the oven for 20 minutes, until golden brown on top.
Top with additional 2 tablespoons chives and sour cream, if desired.
Serve immediately.