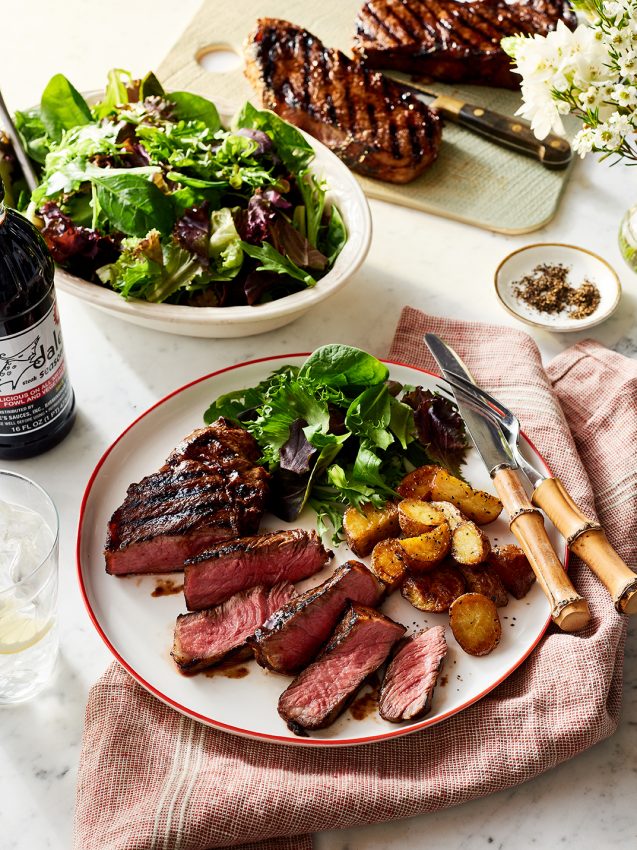 Ingredients
8 tbsp Unsalted butter, softened to room temperature
1 tbsp Chopped shallot (or onion)
1 tsp Chopped fresh thyme leaves
1 tbsp Chopped fresh parsley leaves
1/2 tsp Finely chopped lemon zest
1 tsp Freshly squeezed lemon juice
1/2 cup + 1/2 tsp Dale's seasoning
3 Cloves garlic, peeled and chopped
Directions
Place the butter in a small mixing bowl.
Add the shallot, thyme, parsley, lemon zest and juice, and ½ teaspoon Dale's seasoning.
Mix well to combine.
Place a piece of plastic wrap (about 12" x 12") onto the countertop.
Scrape the butter into the center of the plastic wrap and form it into a rough log, about 1" thick, by 6" long.
Twist like a candy wrapper to seal tightly and refrigerate until ready to use (up to 48 hours.)
Meanwhile, place the steaks into a gallon sized plastic zip bag.
In a small bowl whisk together ½ cup Dale's seasoning, garlic, sugar and black pepper.
Let marinate 40 minutes at room temperature.
Remove from marinade and pat very dry.
Preheat a grill to 400°F.
Place the steaks directly over the coals and cook for about 5-6 minutes on each side, until the internal temperature reads 132°F (for medium rare).
Remove to a platter, top each with ¼" slices of the herb butter, tent with aluminum foil and let rest for 10 minutes.
Slice across the short side, into ½" thick slices, divide evenly and serve immediately.