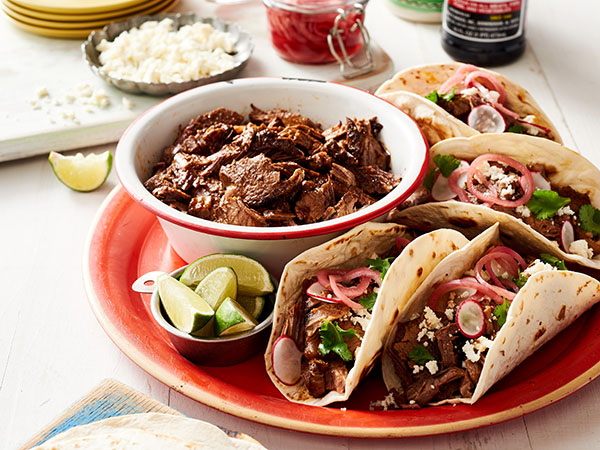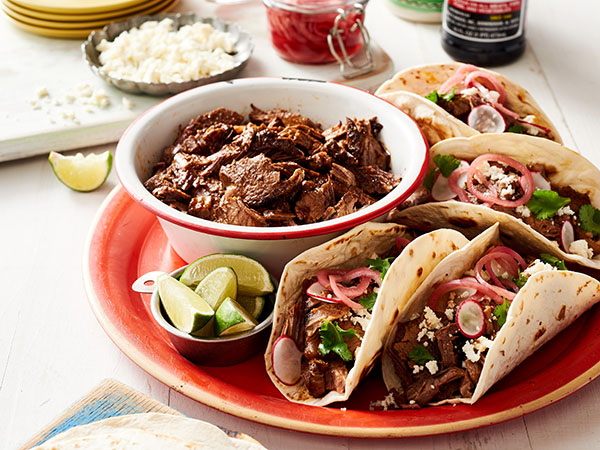 Brisket Tacos with Pickled Red Onions
June 6, 2017
Prep: 20 mins
Cook: 8 hrs
Ingredients
1 Medium-size onion cut into 8 wedges
6 Garlic cloves, peeled and smashed
3 lbs Beef brisket with fat trimmed to 1/4" thick
1 Medium red onion, peeled and thinly sliced
5 Whole black peppercorns (optional)
Directions
1Place the onion and garlic into a slow cooker.
2Place the brisket over top, fat side up.
3In a small bowl, whisk together the Dale's seasoning, beef broth, black pepper, cumin, chili powder, honey, and dried oregano.
4Pour over the brisket, into the slow-cooker.
5Cover and cook on LOW 8-9 hours or until brisket is fork-tender.
6Meanwhile, in a small saucepan combine the red wine vinegar, ¾ cup water, sugar, salt, dried chile and black peppercorns (if using).
7Bring just to a boil and whisk well to dissolve the sugar and salt.
8Add the onions and let cook for 2 minutes.
9Remove from heat and pour the mixture into a glass jar.
10Cover and refrigerate until ready to use.